The Power of Full Engagement:
Manage Energy, Not Time
Most everyone I talk with seems starved for time these days, leaving them with a sense that they must cram as much as possible into every day. Unfortunately, using every second of time available -- and doing so as efficiently as possible --does not seem to lessen the sense of overwhelm most of us experience.
I started my business 11 years ago as an Organizing Consultant. Back then some people called us "efficiency experts." My first year in business I realized that there was a big difference between efficiency and effectiveness. In order to be effective, efficiency is helpful, but being efficient does not necessarily make you effective.
Efficiency is doing more things faster. Effectiveness is doing the right things. Being productive means that one is focused on doing the right things as efficiently as possible. Thus, for several years now I have called myself a Productivity Consultant. I can sum up my thoughts about organizing in one sentence:
"Organizing your physical environment without first clarifying
your priorities is like rearranging deck chairs on The Titanic."
--Kathy Paauw
Soon after I started my business, I enrolled at the Academy for Coach Training to become a Certified Personal and Professional Coach so I'd have the skills and tools to help myself and my clients to be more productive. As Stephen Covey says in his book First Things First, "What does it matter how much we do if what we're doing isn't what matters most?"
I just finished reading a great book that has been on the New York Times bestseller list: The Power of Full Engagement: Managing Energy, Not Time, Is the Key to High Performance and Personal Renewal, by Jim Loehr and Tony Schwartz. The book provides a blueprint for how to effectively sustain high performance in the face of increased demands. The authors tell us that the essential ingredient is energy – the fundamental currency of high performance. They have come to several conclusions about energy:
Capacity is a function of one's ability to expend and recover energy.
Every thought, feeling, and action has an energy consequence.
Energy is the most important individual and organizational resource.
The ability to be fully engaged in whatever you are doing – be it personal or professional – requires the skillful management of energy in four separate but related dimensions: physical, emotional, mental, and spiritual.
Full engagement means being physically energized, emotionally connected, mentally focused and spiritually aligned.
The authors talk about primary skills we need to pay attention to, which they call the "big muscles", and supportive habits and skills, which they call the "small muscles".
Physical capacity: reflected in one's ability to expend and recover energy at the physical level. This is defined by quantity of energy – measured by low to high energy.

Big muscles: heart & lungs, abdominals, shoulders & back, arms & legs
Small muscles: sleep, exercise, diet, hydration
Emotional capacity: reflected in one's ability to expend and recover energy at the emotional level. This is defined by quality of energy – measured in terms of unpleasant & negative to pleasant & positive emotions.

Big muscles: self-confidence, self-regulation, interpersonal effectiveness, empathy & caring
Small muscles: patience, openness, trust, enjoyment
Mental capacity: reflected in one's ability to expend and recover energy at the mental level. This is defined by focus of energy – measured in terms of broad to narrow focus and external to internal focus.

Big muscles: focus, realistic optimism, time management, creativity
Small muscles: visualization, positive self-talk, positive attitude, mental preparation
Spiritual capacity: reflected in one's ability to expend and recover energy at the spiritual level. This is defined by force of energy – measured in terms of self to others, external to internal and negative to positive.

Big muscles: character, passion, commitment, integrity, service to others
Small muscles: honesty, integrity, courage, persistence
Optimal performance requires the greatest quantity of energy, the highest quality of energy, the clearest focus of energy, and the maximum force of energy.
Full engagement requires drawing on each of these four sources of energy. All of them are necessary, none is sufficient by itself, and each influences the others. A free profile will give you an instant snapshot of your own energy profile so you can have a basic sense of your level of engagement in each of the four dimensions. The Power of Full Engagement provides concrete suggestions and a Full Engagement Training System that will teach you how to balance and increase your energy in areas of deficiency. Below is an example of the report you will receive after you have taken the profile online.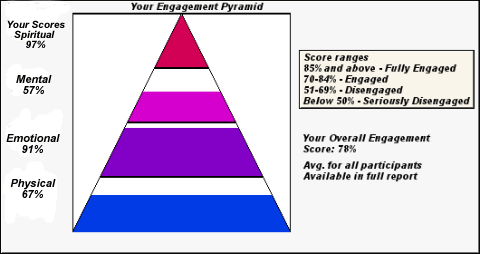 The individual who took the profile above is spiritually (97%) and emotionally (91%) aligned, and needs to work on her ability to physically (67%) recover and better focus her mental (57%) energy. Overall she is "engaged" but could move up to the next level of engagement by practicing better self-care. Her ability to focus will naturally improve as she takes better care of her physical needs. She needs to disengage more often (take breaks every 90 minutes) and build in some rituals that will improve her physical health – improved diet and hydration, more exercise, and more rest.
By the way, the profile above is mine! There were no surprises here for me when I got the results.
I recently returned to the office after having spent 10 days away for a wonderful vacation in Mexico, without the ability to check voice messages or email. (Studies show that 1 in every 4 Americans check email and voice mail while on vacation.) When I returned after having been completely unplugged for 10 days, I came back to 2400 emails and 13 voice messages. Although 90% of the emails were junk, I still had to slog through them and use the delete button liberally. That still left 240 messages to handle. More than a week after returning to the office, I continue to play catch-up.
When I saw the report above, it reinforced what I already knew about my needs. Seeing it in this report helped me to recognize that it's time to do something about it. For at least a year I have felt the need for a virtual assistant. My 10 days away helped me to realize that it would not be wise for me to put this off any longer. I just retained a virtual assistant who will begin working with me this week. I already feel tremendous relief just knowing that I have her support so I don't have to "do it all" myself anymore.
Forming Positive Habits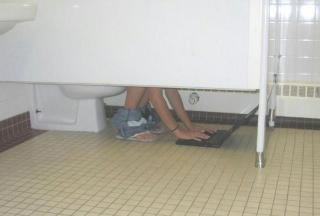 I had to laugh when I received the photo above in a recent email from a friend. Some might say this person is "fully engaged," but this is not quite what the authors had in mind. "Full Engagement" requires us to sometimes disengage in order to recharge. Negative habits -- such as working without frequent breaks to recharge our batteries -- tend to block, deplete and waste stored energy, creating a barrier to full engagement. Just as top athletes must rest before they perform, full engagement requires periodic strategic recovery. Recovery takes place during times of intentional and planned disengagement.
Think of what happens to your muscles when you lift weights. The muscle development does not happen during the weight-lifting session. It actually happens during the recovery period that follows. The act of lifting weights stresses the muscle. The growth of the muscle takes place during the rest period following the workout.
The best way to change behavior is to form new habits. The authors of the book remind us that these habits (they call them "positive energy rituals") support effective energy management. This requires using the appropriate quantity, quality, direction and force of energy.
Because I believe that both my health and my mental focus will improve when I practice better self-care, I have chosen to focus on forming some positive energy rituals around my physical needs. I believe this will increase the quantity of energy I have to expend. Physical energy is derived from the interaction between oxygen and glucose. Therefore, the two most important regulators of physical energy are breathing and eating.
Here are some of the choices I have recently made to improve my physical capacity:
DIET:
EXERCISE:
Interval training 30-45 minutes a day.
Do static contraction workouts at the gym weekly. (This is a specific set of exercises and I know exactly what this involves.)
Consider taking a yoga class.
REST:
I know from past experience that if I try to implement all of these choices at once, I will fail. Therefore, I will form new habits and rituals by following the recommended process outlined in The Power of Full Engagement. Note in my example below that I have only selected a portion of my goals to begin implementing this week. Once I have built a ritual around these choices, I can build additional rituals in subsequent weeks. See my example below.
Barriers Worksheet
| | |
| --- | --- |
| My Top Work-Related Performance Barriers | Energy/Performance Consequences |
| 1. Poor concentration/fatigue | Work quality suffers, takes longer to do things, promotes negative energy in myself |
| 2. Work-life balance | Not enough time for family, friends, self-care, not fully present when spending time with others |
| 3. Overwhelmed/stressed | Agitated, feel out of control, irritable |
| 4. Low energy | Poor performance, sluggish, disengaged |
Action & Development Plan for Full Engagement
Ritual-Building Strategy
(complete this for each of the four barriers listed above)
Targeted Muscle(s): Heart & lungs, upper & lower body
Performance Barrier: Poor concentration, fatigue
Value(s) driving change: Good health, excellence, balance, peace/calm
Expected performance consequences: Higher productivity, better decisions, quality work
| | |
| --- | --- |
| Positive Energy Rituals Supporting the Targeted Change | Launch Date |
| 1. Eat 3 low-calorie, highly nutritious meals a day, plus a mid-morning and mid-afternoon healthy snack (100-150 calories each). Eat away from my desk. | 9/5 |
| 2. Do interval training 30-45 minutes a day on treadmill | 9/5 |
| 3. Take a 5-10 minute break every 90 minutes to stretch and move. | 9/5 |
| 4. Be in bed by 11 PM. Do something relaxing (non-work) at 10 PM to start winding down. | 9/5 |
Tracking progress makes a difference in the outcome. Write down your choices on a chart and post this where you will see it throughout the day. See the sample chart below. Then keep track of your progress by placing a checkmark in the box under each day that you follow through with your intentions. The # column is where you identify how many times each day you intend to do the activity. For example, if you have identified an activity you intend to do 5 times a day, ideally you will have 35 checkmarks on that line at the end of the week (5 per day for 7 days). At the end of the week you can easily determine how often you followed through with your intentions.
| | | | | | | | | |
| --- | --- | --- | --- | --- | --- | --- | --- | --- |
| POSITIVE ENERGY RITUALS | # | SUN | MON | TUE | WED | THUR | FRI | SAT |
| 1. Eat 3 low-calorie, highly nutritious meals a day, plus a mid-morning and mid-afternoon healthy snack (100-150 calories each). Eat away from my desk. | 5/day | | | | | | | |
| 2. Do interval training 30-45 minutes a day on treadmill | 1/day | | | | | | | |
| 3. Take a 5-10 minute break every 90 minutes to stretch and move. | 4/day | | | | | | | |
| 4.Be in bed by 11 PM. Do something relaxing (non-work) at 10 PM to start winding down. | 5/wk. | | | | | | | |
| 5. | | | | | | | | |
Take Back Your Time Day is October 24. The organizers of this annual event have written an interesting Labor Day press release. Take Back Your Time is an initiative of the Simplicity Forum and a project of the Center for Religion, Ethics and Social Policy at Cornell University.
In closing, I'll share a brief excerpt form www.timeday.org:
We can be healthier, happier and even more productive per hour of work. The World Economic Forum finds that four of the five most competitive economies in the world have the most time-friendly, family-friendly and worker-friendly policies. It's a win-win situation. Take Back Your Time is really about asking the big questions, like 'what's really important in life?' and 'what's economy for, anyway?' If it's not about being healthier and happier, then what are we doing this for? Having the biggest GDP is not enough." It's something to contemplate at the beach this Labor Day. Or sadly, maybe even in the office since many of us won't even get that day off.